Description
This Linear LED driver is designed to meet the stringent requirements of automotive applications.
The AT402U monolithically integrates a transistor,diodes and resistors to function as a Constant Current Regulator (CCR) for LED driving. The device regulates with a preset 20mA nominal that can be adjusted with an external resistor up to 100mA. It is designed for driving LEDs in strings and will reduce current at increasing temperatures to self-protect. Operating as a series linear CCR for LED string current control, it can be used in applications with supply voltages up to 40V.
With no need for additional external components, this CCR is fully integrated into a SOT26/SC74R minimizing PCB area and component count.
Applications
Constant current regulation (CCR) in automotive LED lighting:
Interior and Exterior Automotive LED Lighting
Dome and Mood Lighting
Puddle Lighting
Side Marker Lights
Features
LED Constant Current Regulator Using PNP Emitter-Follower with Emitter Resistor to Current Limit
IOUT = 20mA ± 10% Constant Current (Preset)
IOUT up to 100mA Adjustable with an External Resistor
VS – 40V Supply Voltage
PD up to 1W in SOT26/SC74R
LED Dimming Using PWM up to 25kHz
Negative Temperature Coefficient (NTC) Reduces IOUT with Increasing Temperature
Parallel Devices to Increase Regulated Current
Totally Lead-Free & Fully RoHS Compliant (Notes 1 )
Halogen and Antimony Free. "Green" Device (Note 2)
Application Information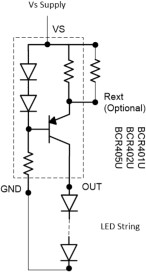 Figure: 1 Typical Application Circuit for AT40X LED Driver